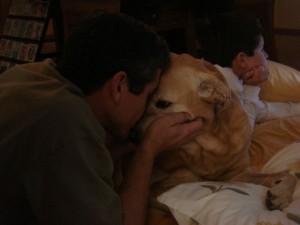 By mid life, most of us (not all, but most) have had family pets and have had to deal with the loss of a beloved pet.
This can be gut wrenching, and deeply emotional.
Have you been there?
Sometimes we see it coming.  Sometimes it happens in an instant. Either way, it is never easy.
Finding a good way to express our grief at the loss of a beloved Family pet will bring us a mid life peace we so desperately need.
Click here, if you find yourself in need, to read a comforting article on this topic.
I just read it and fold greater peace.
This is exactly what me and my Family needs right now.
Yesterday, we laid Carter, our beloved Canine Son (yellow Lab of 11 years)), to rest.