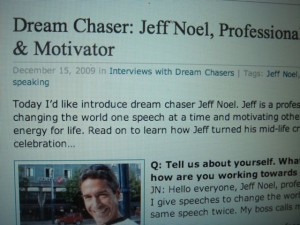 Guest Bloggers wanted.
Ever consider blogging but haven't done it yet?
Ever dreamed of being a writer, but haven't "published" anything yet?
Are you an experienced writer and want to expand your reach, relevance and impact?
If you'd like to be a Guest blogger at any of the five-a-day blogs I write, please think about it over the holidays.
Most of you saw this coming, and 2010 promises to be the best year ever. How could it not be?
So, seriously, think about it.
I'll never embarrass you or make you feel uncomfortable. Not intentionally anyway. I may embarrass myself occasionally, but that's part of taking risks.
All part of being a Dream Chaser. Ya with me?