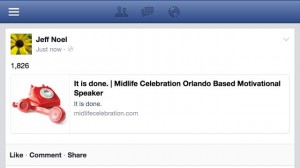 (photo: Shared the 1,826-day posting streak on personal FB update yesterday)
Today is dedicated to going after our impossible dreams.
1826
The fact that MLC has written five daily posts for five consecutive years is astonishing.
The emotional, personal, ripple effect from today's posts (day 1827) has been fun in a weird, unexpected way. Nothing ventured, nothing gained.
It was simply a bold, 100-day personal challenge to break the insidiously well-developed habit of not writing. At all. Like 30-years worth of nothing.
Anyway, glad to take the risk.
Next Blog