The photo's text is crucial for today's context…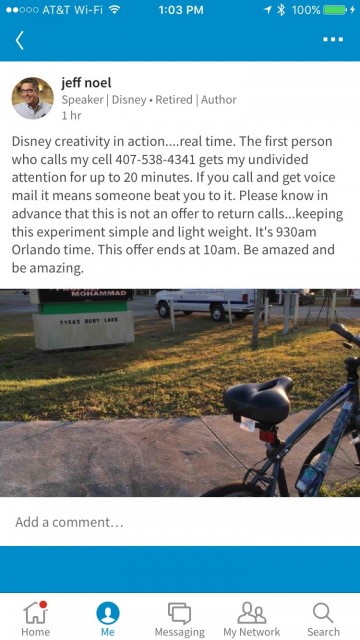 While cycling home from the gym yesterday, had an hour (3x longer than promised) phone conversation with somebody i've never met.
He's in his mid-40s and wants to take control of his work life and be his own boss and do something amazing and make a contribution to society using his skill set and experience.
Hours later, in the early afternoon, as i laid down to take a nap it hit me… i was exactly where he was when i decided to change everything and start a small business.
That was seven years ago.
i was 50.
Insight: Using age as an excuse or barrier to catching a dream is an unproductive idea.
__________
On April Fool's Day 2009, jeff noel began writing five daily, differently-themed blogs (on five different sites). It was to be a 100-day self-imposed "writer's bootcamp", in preparation for writing his first book. He hasn't missed a single day since.
This website is about our mental attitude. To easily and safely leave this site to read today's post on jeff's physical health website, click here.