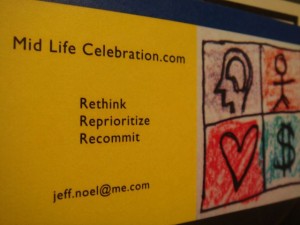 Do you celebrate meaningful milestones in your life? Or, do they come and go like the seasons – here and gone before you know it.
In two days, I'm celebrating one year of writing five daily blogs.
The learning curve has been amazing. Sometimes steep and challenging.  Sometimes flat and easy.
At jeff noel.com, I wrote a Mid Life Celebration summary.  Wanted to share it here, one last time, before it's removed:
"Mid Life Celebration is where I challenge myself to: Rethink.  Reprioritize.  Recommit.
There are four key areas to my life, every life actually, and I share thoughts, tips and on a good day, a decent dose of motivation.
I'm challenging myself, because I'm crystal clear on the fact that none of us is going to live forever.
I am very thankful for the wake up calls in my life.   I no longer ignore the clock.  I embrace it and am inspired by it. What about you? What have you got to lose, seriously?"