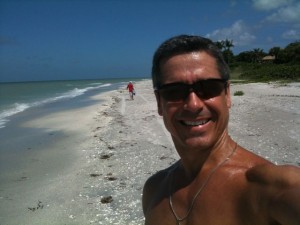 While attending my annual writer's retreat last week, there was time off from the writing, blogging, networking and publishing agenda to spend time on the beach.
Who doesn't like getting out of work to go to class, to learn, network and have a nice continental breakfast and "free lunch"?
And by the way, when you go to professional development conferences, there's nothing wrong with trying to find a great location you like that includes a lot of amenities that suite your style.
Enlarge the above photo and you can see our son (9). I wonder if he'll go the corporate route, run his own entrepreneurial business, or maybe a bit of both.
Will he turn out just like me?