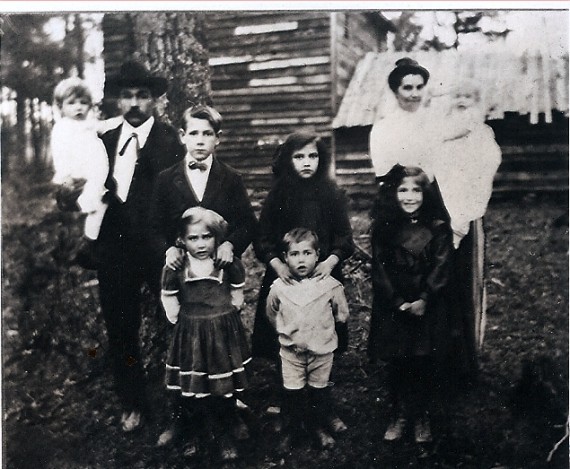 (photo courtesy Lorie Sheffer family archives: Photo taken around 1905. Lorie's great grandparents Emanuel and May Baker with 7 of their 12 children, standing in front of their house.
I never knew my great grandmother. She died a decade before I was born. However, she was in my heart on November 2 as I stood on a sidewalk on Broad St in Philadelphia. I could almost feel her walking along with me.
May Holt Baker was the daughter of a Union soldier in the Civil War who barely survived a year as a POW in Andersonville Prison. In her early twenties, she married and left her family home in Illinois to move to the South Mountains of Adams County, Pa. She wouldn't see her surviving family until 47 years later. The Bakers had twelve children, 10 of whom survived to adulthood; Grace died of whooping cough at the age of 4 months, and Rosalie died of sepsis, the result of a wooden splinter she got while crawling on the floor. Basic vaccinations and common antibiotics were years away. The wood frame farm house in which the family lived, like many homes of that time, had no indoor plumbing or electricity. The family survived on farming, their fruit orchard, hunting wild game, and my great grandfather's job at a nearby sawmill.
May tried hard to keep up with the news, reading everything she could get her hands on in an effort to educate herself. When she was 47-years-old, women were granted the right to vote. She became increasingly interested in politics and voted in every election. The Great Depression probably didn't seem that much different from how her life had been since leaving Illinois, but she was keenly aware of the struggles of the nation. She developed a deep affection for President Franklin Delano Roosevelt. One day, while reading her local paper, May saw that FDR was coming to nearby Gettysburg to dedicate the Eternal Peace Light Memorial for the 75th Anniversary of the Battle of Gettysburg. May was 65-years-old and had never driven a car, but she knew she was going. Some way, some how, she was going to see her beloved President. And go she did. As luck would have it, she actually got to shake hands with him. Tears would stream down her face every time she recalled that day. FDR would die in office 7 years later, and May would join him four years after.
I waited in line for 2 hours in the wind and cold, thinking of how she must have waited in the heat that July day back in 1938. Inside the arena, people jumped to their feet as he walked to the stage, the sounds of the cheers and applause like nothing I've ever heard. I looked around to see that wonderful mix of people that is Philadelphia; that is America. As the President began to speak, I looked at their faces and I knew we were all feeling what she must have felt 76 years ago on that field in Gettysburg.
Link to dedication video and photographs.
Link to photographs Lorie's great grandmother's house, which was recently sold out of the Family.
Next Blog