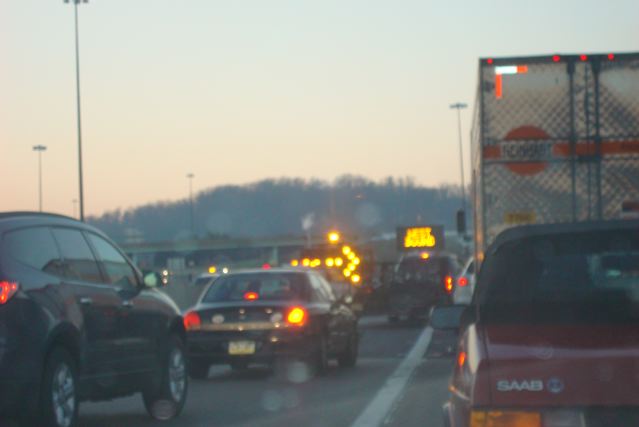 We woke up in Philadelphia the morning after Christmas to a light snowfall. It was lovely. By the time we were finished with our lunch at a nearby diner, the sky was crystal clear, cerulean blue and the sun was shining brightly.
After getting onto The Pennsylvania Turnpike, I figured that even taking into consideration the stop we had to make along the way, we would be home in about an hour and a half. And then I noticed the cars that were sitting at a standstill in front of me. I stopped, wondering what must have happened.
I guess it would be easy, almost expected in fact, to lose patience after four long hours of crawling along at speeds that never exceeded 5MPH. I was relieved to finally make it to the exit that led us to a detour of the closed down stretch of highway. I will admit that I was exhausted and extremely happy when we finally got to the open road. But I felt extremely fortunate even while stuck in that stand still parking lot of a traffic mess. I knew the reason for the logjam must be one heck of an accident.
When we got home -almost 7 hours later than my initial prediction-and turned on the news, we saw the photos that had been taken earlier in the day. There were 35 cars, tractor-trailers and SUVs jutting at odd angles on the roadway. The snow had been heavier in that area earlier that morning, and the cars had been involved in a chain reaction collision as they slid on the icy roads and into one another. The people involved in the collision said they, too, felt lucky. In spite of the wreckage, there had been no fatalities and relatively few injuries.
Next Blog