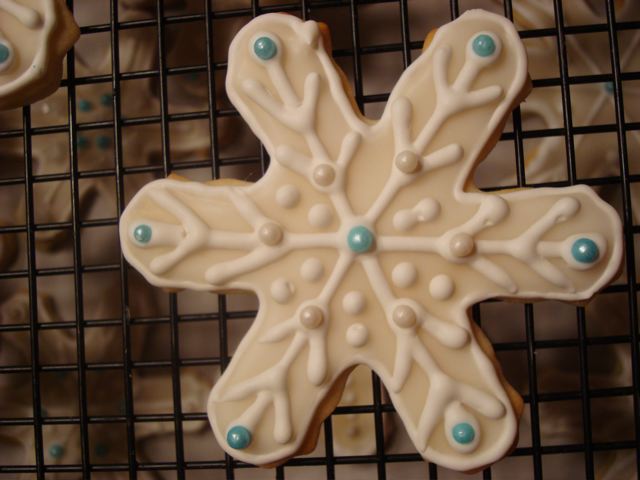 I've always needed some sort of creative outlet, so holidays are my time to go for it.  Last year, I added decorated sugar cookie snowflakes to my repertoire of baked holiday treats. This year I upped the creativity factor by investing in a pastry bag and a self-education course on decorating via some very helpful Internet sites.  I have to admit that exhausting as it was, I totally enjoyed the two full day process and was pretty happy with the results. So happy, in fact, that I posted the above photo on my facebook page.
My brother's comment? "Where are the chocolate chips?" Chocolate chip cookies are his favorite. Apparently, according to the comments on HIS comment, they are the favorite of many.
Lesson learned? Sometimes it's the simple things. Sometimes we think that more effort we put into something, the more others will appreciate what we've done for them. We also need to think, are we doing what we're doing for THEM or are we doing what we're doing for OURSELVES? I will admit that although I baked these embellished cookies for everyone to enjoy, I mostly did it for me. I wanted the creative outlet and I wanted to learn a new skill. I think it's fantastic to do something just for me sometimes.
Last night I whipped up a batch of chocolate chip cookies. The entire process took me about an hour and a half. They are now waiting in a container on my table, ready for me to drop off at my brother's apartment later this afternoon.