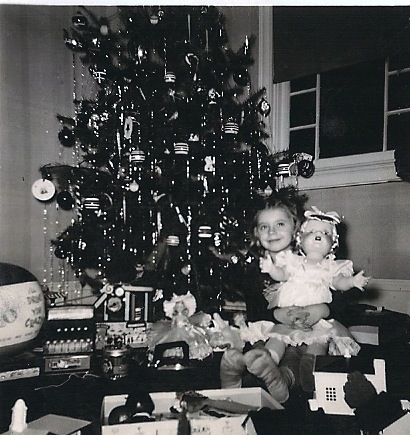 This is the time of year when we celebrate traditions. Some of us may have lavish Christmas celebrations, including parties, family gatherings and religious services. Others of us may spend the season more quietly, with understated observance. There are also people who celebrate non-Christian holidays, while others don't celebrate at all. Even with all the variations of the season, it's hard to find anyone who doesn't have some type of traditional way to spend time during the month of December.
My family started a favorite tradition over ten years ago. We would always set aside a night between Christmas and New Year's for a special night of celebration. We would have dinner, the menu running the culinary gamut from Italian to Chinese. We'd have the always anticipated gift exchange. This was our special not-on-actual-Christmas-Eve Christmas, to be celebrated when and how we chose, with one of our very favorite relatives. Her eccentricity always made things memorable. There was the year of Y2K, when she poked fun at the Chicken Littles of the world. I got a space blanket, a basket of tinned meats and bottled water, candles and a wind up flashlight, as well as a copy of the book "How to Survive Anything, Anywhere". There was the year of the stress-relief gifts, the year of the bath gifts, the year of the vanilla themed gifts. The gifts, always a theme, were purchased on the streets of Manhattan and toted by subway, taxi and a four hour bus ride to our home. They were wrapped with care, often with hand made decorations, usually packed into recycled frozen soft pretzel or Saltine boxes.
Last year my son and his wife had to head back to their home early to avoid the forecasted snowstorm. While I missed having those extra days with them, it made the fact that this would be the first year we would not be sharing our special Not on Actual Christmas night slightly more bearable. This year, his hospital night shift will once again mean that our Christmas week is going to be way off schedule. Still, I know that we would have somehow made our night happen. She would have extended her stay to make sure of it. But now there is a huge empty space to fill.
Every family has traditions. Sometimes we have to change them. This year, I know that my family will be thinking back to those special celebrations. It's still too soon to think back on them and smile. Instead, I decided to fill that night with something totally different. It can never be the same, and trying to tweak it into something similar wouldn't work at all. Instead, I have decided to celebrate the first night of Hanukkah. It will be a way to teach my grandson about part of his family tree. It will be a toned down, yet celebratory night; new foods, new music, new friends. Yet while I was shopping in preparation, I could almost hear her voice. "Hey! Don't forget the dreidles! I know a place over on Second St that carries really nice ones! Geeze….. you have a menorah, right?" It will be different, and yet it will be the same.