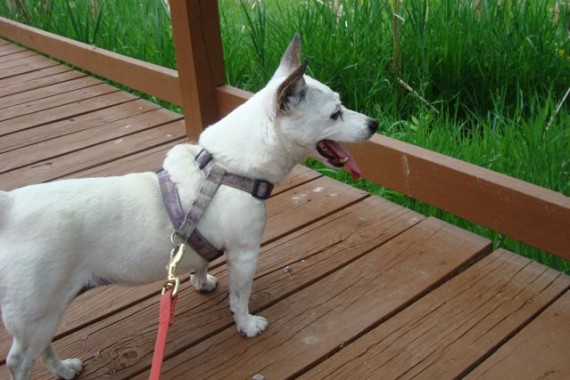 It's been twelve weeks. Five days a week, an average of forty-five minutes a day. On the rare day it's exceptionally hot and humid or pouring rain we may only go for twenty-five minutes, but if it's relatively comfortable we may stay outside for over an hour. Only one day did we cancel, due to lightening and hail.
We have graduated from staying on the sidewalk to climbing some hills and going through uneven fields. On hot days, one of us may even go for a wade in the creek. (One of us not being me.)
Her owner says he can tell she is getting fit. She seems to have dropped a little weight and her behavior is better. She is going to be 16 years old soon, and her energy is boundless.
My hip pain is almost non-existent, the tendonitis in my ankle is at least 75% better and I now sleep through the night. My anxiety is almost entirely manageable. Would I have committed to this daily routine with such enthusiasm had I known that my weight would remain unchanged? I'm honestly not sure. I'd like to say that all of the positive changes would have been more than enough to motivate me, but truthfully, not shedding any weight has been a real downer. Sorting family photos last evening shone a light on the harsh reality that genetics are not on my side. Longevity, yes; slimness, not so much.
I need to send this to Jeff for tomorrow's posting. I have a little dog waiting for me, and she's ready for our daily walk. It's cool and cloudy. We'll be walking for at least an hour today.
Next Blog