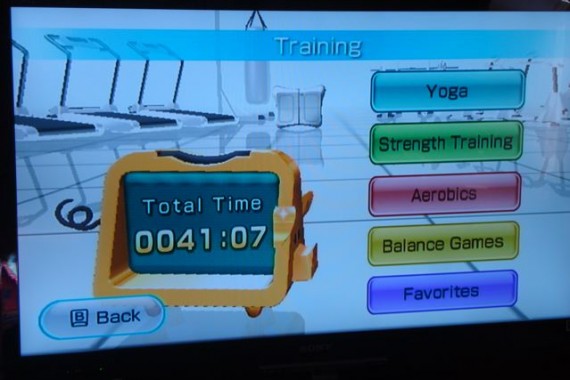 What happens when the results of your exercise program are not what you had expected or hoped for?
It's been two months. As I stated in an earlier post, I began taking two-mile walks in the park down the street from my house. And then it snowed. And it got cold; incredibly, horribly cold. I dug out the Wii Fit and dusted it off. I was determined not to miss a day. Of course I DID miss a few days, but have been more dedicated than not. I've missed a day here or there, but for the most part I have logged at least a half hour but most often an hour per day. I start with the yoga poses, work through the strength exercises and then hit a half hour of aerobics, followed by a few of the balance games. I have gotten lots of perfect scores, bested my old scores and racked up 40 hours of activity.
The result is that I have gained five pounds and now have tendonitis in my ankle and wrist. I'm sure the wrist pain is from too many downward dog-type moves, so I have modified them and wear a wrist splint.
It would be pretty easy to throw in the towel at this point. But I refuse. Not that I am a glutton for punishment and certainly not that I am one of those folks who lives for the chance to exercise. It would be easy to quit, and considering the evidence it would seem logical. But there are subtle signs I've noticed that make me want to keep going. Last night I stooped down to poke the fire and was able to do a nice squat, hold it while stabbing at the burning logs, and then quite easily rise back to standing. I have been sleeping through the night most nights, and feel more rested in the morning. Even though there have been two deaths in the family and we have gone through the big holiday season, I have not had issues with my anxiety. I didn't freak out while stuck on the turnpike for 4 hours. To me, that in itself is huge.
I will say that I had expected to drop a few pounds, or at least not gain. That was my big goal and it is extremely disheartening not to have achieved it considering all of the hard work I've put in. But when I look at the big picture, I have found my motivation to continue. As we age, things like stooping and lifting tend to get harder, not easier. My inner voice tells me that I will thank myself some day, even if I thank myself wearing a larger size than I had envisioned.
Next Blog