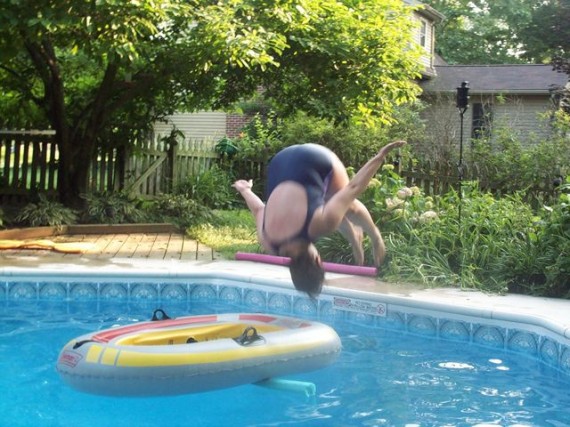 I'll admit it; I was bored. I was channel surfing and stopped when I saw one of my all-time favorite athletes, Olympic champion diver Greg Louganis. What was he doing pushing someone who looked like Louie Anderson out of a pool? I soon realized I was watching "Splash", a celebrity diving show. As I said, I was bored, and I have always liked to watch diving, so I stopped surfing and watched. I was soon hooked.
Greg Louganis is now 53 years old. His hair has turned silver and he is even more stunningly handsome than he was when he competed over 20 years ago. But perhaps what is most startling is remembering that he was diagnosed as being HIV positive in 1988. Louganis is acting as coach for the celebrity divers, and when he took to the 35-meter platform, his dive was as flawless as ever. He is proof that, with proper medical care, HIV is not the death sentence it once was.
Greg Louganis was not the person who most amazed me, though. Louie Anderson, 60 years old and 400 pounds, is the person who brought tears to my eyes. Louie learned to swim when he was 55 years old. He claimed to be on the show for all the people out there that are too embarrassed to be seen in a swimsuit or in a pool. On Anderson's first day of practice, he was unable to get out of the pool without the assistance of Louganis and two others. He was mortified. But he never gave up. In competition, 27-year-old former Playboy model Kendra Wilkinson, unable to overcome her fear of heights, withdrew from competition. Anderson never wavered. He outlasted a former Cosby Kid, a professional football player and the former playboy model. Finally, he was eliminated after a night of flips. "I can hardly turn in bed", he quipped just before sitting on the 16-foot board and rolling backward into a tumble.
After receiving a score that eliminated him by .25 of a point, he said, "This is not my last dive. This is my first step into a brand new life." He said he did the show because maybe it would get someone off of the couch.
Next Blog