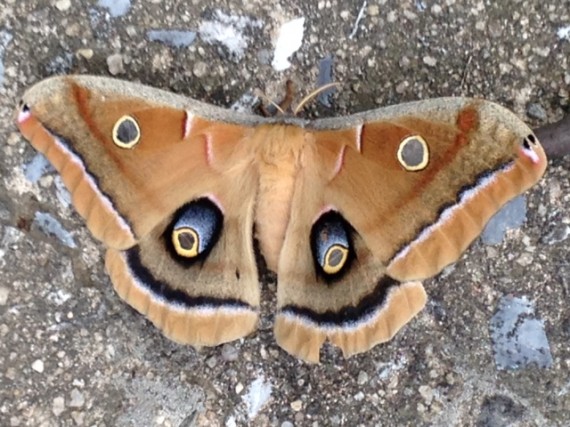 (photo: Lorie Sheffer)
When I agreed to walk my friend's dog, the first thing I thought of was losing weight. Back in March, when the snow was still on the ground, I had a vision of what I would look like today, as summer is coming to an end. Surely I would be slimmer, more fit and toned. Five days a week, a half hour to an hour each day, for six months. I never expected that I would look the same much less weight the same. I felt as if I had failed.
Then last week, I noticed something on the sidewalk. It looked like a tan tarantula. I gently nudged the fat, hairy body with a small twig. This creature opened its wings and I actually gasped. The wingspan was about six inches; I had finally found a silk moth. My friend Julie had shown me a photo of one a few years ago and I commented that she "always got the good stuff" in her yard. "You have them too; you're just not seeing them" she told me.
The sight of that beautiful tan and brown moth, its subtle colorings, those two markings that looked like eyes staring up at me, came with a realization of a much bigger picture.
I have seen snow melt to reveal spring flowers. I have seen the bare woods become lush and dense. The creek banks look as if they were on fire from the blooms of thousands of orange lilies. I've heard the deafening sound of frogs mating in the spring, only to go silent by July. I've had a daily check-in with a rather large snapping turtle, while marveling at the grace of a swimming water snake and recoiling at the sight of a copperhead. I've seen orioles and blue jays, swallowtails of both yellow and black and I've even spotted a monarch. I've collected black walnuts that have fallen to the ground and I've watched a groundhog chew on a discarded piece of cookie.
The past six months were never about what I was going to lose; they were about what I was going to gain.
Next Blog