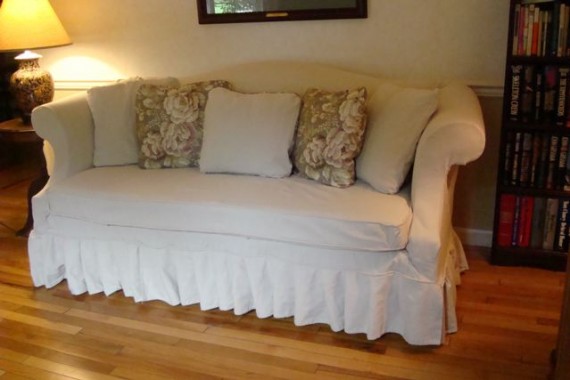 Trying new things doesn't have to be something to fear. It's good for us. It's good exercise for our brains, and it's good for our soul. In the process, we may even discover a passion we didn't know we had.
My living room furniture is shot. I am sick of the style and it's old and has seen better days. That being said, the living room doesn't get used much. Add to that the fact that my husband is now retired and new stuff is expensive, layered with my love of recycling, repurposing and reusing, and the stage was set for my new endeavor. I decided to make slipcovers. I do own a sewing machine, but its main use has been to sew things like hems and curtains, all involving straight lines and very little skill. I will not be a contender for Project Runway anytime soon, for sure.  In fact, an old classmate recently reminded me about a rather unfortunate incident back in our high school home ec class. While attempting to construct a simple apron, I somehow managed to get my finger under the needle and the machine pounded the needle in through my fingernail and out the other side. As said classmate commented, "That's not something you forget!"
The Internet is my salvation. Honestly, there's not much you can't learn to do if you just start Googling. A blogger by the name of Miss Mustard Seed taught me everything I needed to know, complete with extremely well detailed instructional videos. Bottom line? I slipcovered by sofa and chair, and made pillows to boot, for under $100. The "fabric" is drop cloths from my home improvement store, which when washed look very much like a heavy linen. A few odds and ends from the fabric store and I was good to go. Two days of draping and sewing, a dining room that served as a workroom, and that was it! As I said in last week's post, I will show the results no matter if they are a success or a failure. This time I am pleased to report that I was surprised by the success! New skill learned!
"I could never do that!" is the comment I hear most often from family and friends who have been to my home and seen my "new" living room.
Neither could I, until I tried. Neither could I.
Next Blog