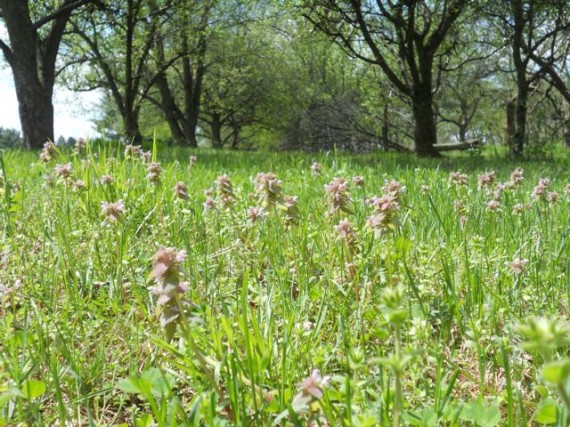 If weeds were a cash crop, I'd be a millionaire. Along with the gorgeous days of spring, filled with blooming bulbs and flowering trees, comes the chore of weeding. It seems every home has a pile of mulch in the driveway, ready to be hauled around by the wheelbarrow full. Heat wraps, Ben Gay and Aleeve are flying off drugstore shelves, scooped up by weekend gardeners with low back spasms.
Just a few days ago, as I was admiring the planned and planted blooms in my back yard, I was also cursing the dreaded weeds that had come in to join them, uninvited. Wild mustard, with its bright yellow blooms, stands tall over unidentifiable purple blossoms, and beneath them all there is a groundcover of chickweed. Unable to face the chore ahead of me, I decided to get some pictures off of the camera card my brother had dropped off for me. He said there were some shots of the pretty wild flowers in the orchard behind our parent's house. I loved picking flowers in the orchard when I was a child, gathering up big bunches and sticking them in jars and glasses all over the house.
The fruit trees are old and many of them no longer bloom. But the 'wild flowers' are still there. I had to smile when I saw the pictures of them. I suppose it's all about perspective. I am now quite sure that when I was a little girl, I would think of my current back yard as a flower filled wonderland.
Next Blog