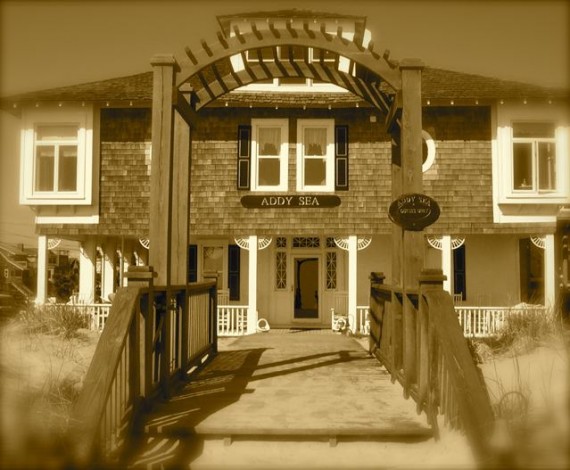 When I was younger, I wondered why "old people" sometimes seem so resistant to change.
I have not been to my favorite beach town in 6 years. So much has happened in my life since the last time I was there. We lost 5 family members ranging in age from 2 to 85 years old. Two have struggled with and recovered from prolonged, life threatening illness. Two jobs were lost, one of which has been replaced and one of which has officially become "retirement".  I've attended weddings and college graduations, a medical school graduation and watched as my now 5'10" tall grandson has entered middle school. Six years filled with much tragedy, much happiness, but most of all, tremendous change.
My husband surprised me with a trip to our favorite oceanfront bed and breakfast, in part to celebrate our 30th wedding anniversary and in part because we so desperately need a reprieve. Aside from a few new bed linens and reupholstered antique chairs, it looks exactly like it did the last time we stayed there. The beach and boardwalk, however, are barely recognizable. "Updates", have been made. "Improvements" to the quaint town have resulted in torn down iconic buildings and a dune that protects from erosion while totally obscuring the view of the beach from the boardwalk. Even the bridge which spans the inlet to the north of the town, that landmark that used to induce squeals of "We're here!" from the back seat of the car, has been replaced with a new and improved suspension bridge.
They can't change the ocean herself. The ocean is such a wonderful, comforting constant. When John Addy built the lovely Addy Sea back in 1902, as a summer home for his Pittsburgh family, the ocean looked the same. The Addy Sea looked much the same as she does now, as well. She's been lovingly restored and updates have been made, but her soul remains the same, a grand Victorian lady. As I enjoyed afternoon tea by the marble fireplace, the sound of the waves breaking on the shore, I finally understood why "old people" are sometimes resistant to change.
Next Blog