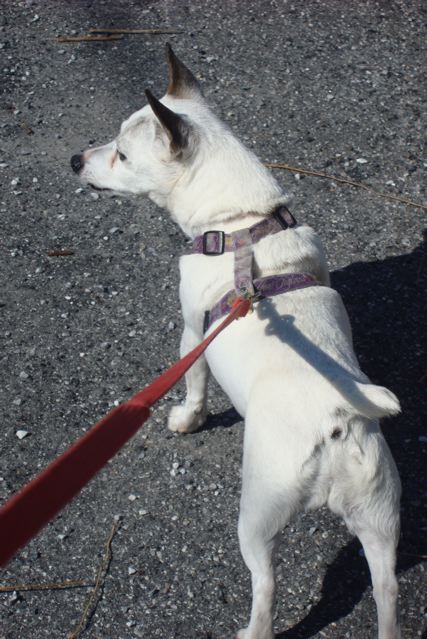 This week I said yes to afternoon duty for my friend's 15-year-old dog. My friend passed away last summer. This dog was her baby, the same as my two cats are my feline children. When the nest gets empty the maternal instinct needs a focus, I suppose. Adult daughters have jobs to go to, and elderly pets that lose their primary caregivers deserve to be kept to their routines as much as possible. Somehow a pet seems like a living reminder. They become even more precious. This "baby" needed some day care.
It's nice to have something be that excited when it hears your key in the door. It's nice to have someplace to be every day at approximately the same time. It's great to have to take a daily walk, no excuses; because after all it's not for YOU it's for something else. It's somehow inspirational (and yes, hilarious) to administer heart medication concealed in a potato roll to a geriatric dog and then have that dog drag you down the sidewalk. One rather small, extremely well loved and cared for elderly dog that has lost her human parent. I think we're an excellent match.
I've never owned a dog. I like dogs; I just never knew what to do with them. I'm learning, though. I have a teacher named Sweet Pea.
Next Blog